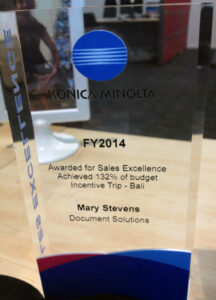 Document Solutions is proud to announce that early this week, Eric Holtsmark (Konica Minolta General Manager – Channel Partners) has awarded Mary Stevens, the Sales Excellence Award for 2014 , achieving 132% budget. 
Mary commented, "It was a joint effort with one of the best teams I have ever worked with in my entire career. It's by no chance I won this award. Thank you to all the amazing Service Engineers, the help desk/ IT team and my Directors, Alan Thompson and Colin Wheeler, who have taught me well! Bring on 2015!"
Mary has spent most of her recent career providing specialist end to end solutions into Educational and Government sectors in the UK. She was sponsored by Document Solutions and joined the Sales division in April 2013, as Education & Government Sales Representative. She started her career in print and document management solutions, working for Konica Minolta Business Solutions, UK.
This year, Konica Minolta is running a Dealer Sales Incentive Trip to Auckland, New Zealand. Good Luck Document Solutions Sales Team!