Document Solutions are proud to announce that one of their Directors, Colin Wheeler, has been chosen as one of only 3,800 people in Australia to run with the Commonwealth Games Baton.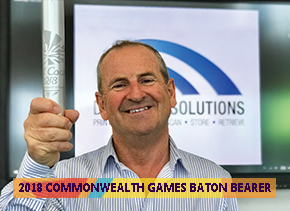 The Queen's Baton Relay is a Games tradition that celebrates the Commonwealth's diversity, inspires community pride and excites people about the world-class festival of sports and culture to come. The Queen's Baton carries a message from Her Majesty Queen Elizabeth II that calls the Commonwealth's athletes to come together in peaceful and friendly competition.
The GC2018 Queen's Baton Relay will be the longest in history and the most accessible ever, not just passing through, but spending quality time in each community it visits.
Colin will be the 5th last person to carry the baton prior to the opening ceremony and takes it along by Seaworld at 12.38 pm on the 4th April.
Colin was chosen due to his involvement in driving the Gold Coast Vinnies CEO Sleepout and achieving nearly $1,000,000 raised in its first two years. The 2018 Sleepout will be on Thursday June 21st at Cbus Stadium. If you have an interest in joining over 200 Gold Coast CEO's, contact Colin on colinw@docsol.com.au or click below to find out more.