Description
Workgroups can take advantage of ultra-fast 2-sided scanning of critical business documents. Use the 200-sheet Automatic Document Feeder (ADF) to quickly scan stacks of one- or 2-sided, large-size documents. The Flatbed can easily scan drawings or maps, hard-bound books or other odd-sized items.
The Epson WorkForce DS-70000 blazes through each task at speeds up to 70 ppm/140 ipm. And, it consistently delivers vivid colours and crisp, sharp text thanks to 600 dpi, high-resolution scanning. It even makes it easy to dropout selected colours or choose a colour and convert it to black.
With this versatile performer, you get high-volume, precision document imaging. Plus, with high productivity software included and the optional networking module, each member of your team can access high performance scanning for critical project needs.
Capture large, 2-sided documents in one single scan

 – scan documents as large as 297 x 2540mm down to 68 x 119mm via the Automatic Document Feeder (ADF) or 297mm x 431mm on the scanner bed

Remarkable results

 – up to 600 dpi resolution provides crisp, sharp text

Ultra-fast speeds

 – one-pass 2-sided scanning at speeds of 70 ppm/140 ipm

Work smarter and more efficiently

 – built-in 200-sheet Automatic Document Feeder, plus automatic duplex scanning

Ultrasonic double-feed detector

 – automatically stops the scanning process if two pages are stuck together

Convenient, network scanning capabilities

 – use the optional networking module and included Document Capture Pro software to scan to any PC on the local network

Scan directly to popular cloud services

 – scan to SharePoint®, Evernote®, Google Docs and more

Scan to a searchable PDF

 – save scanned documents as PDF files

Do more with powerful productivity software

 – includes EPSON Scan, Document Capture Pro (Windows only) and ABBYY FineReader Sprint OCR

One-touch scanning

 – saves up to 30 user-programmable jobs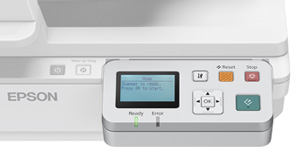 SCANNER OPTIONS:
Network Adaptor – Convenient Control of the Scanner – Now, the scanner has the capability to scan to, and be controlled by any PC that's within the same sub-network and has Document Capture Pro software installed. Document Capture Pro comes standard with the EPSON WorkForce® DS-70000 and DS-7500.
Easy Setup and Operation – Connected to the Epson scanner, the Network Scan Module queries the sub-network. The LCD then displays a list of all available PCs that have Document Capture Pro installed (up to 100). Selecting the desired PC will display the job list available in Document Capture Pro.Select and modify the job, then load the documents and press the Scan button. The documents are scanned, stored or sent according to the job parameters. The EPSON Network Scan Module features one 'Scan' button and a convenient LCD, which enables the user to select from many setting options.
Features & Benefits:
Scan to any PC in your workgroup without having to use the PC to control your scanner
Scan directly to popular Cloud services
Works with the EPSON WorkForce® DS-7500, and DS-70000 document scanners
Select from 30 user-definable scan job settings, with variables including:
– Source (Automatic Document Feeder or flatbed)
– Document size (standard sizes/custom sizes/auto)
– Image type (black-and-white/grayscale/color/auto)
– Image rotation
– Resolution (from 50 dpi up to the maximum dpi of the scanner)
Output settings
– Save-to folder
– Job separation (a stack of documents can be saved as multiple pdf files by inserting a blank page between each document in the stack or a bar-coded page separator)– File type (pdf, pdf-a, searchable pdf, jpg, BMP [Windows only], tiff, multi -tiff, PICT [Mac only] ) and variables associated with each file type (compression settings, etc.)
Destination settings
– Popular cloud services including SharePoint ®, Google Docs® and Evernote ® (each service has its own setup screen where you can add your account settings, destination folder, etc.)
– E-mail (Document Capture Pro launches your e-mail client window with the attachment already in place, or send an e-mail to a pre defined address) FTP/Web folder
– Printer
– Any appropriate application (third-party document management software)
Product Download