Document Solutions Australia (formerly Konica Minolta Gold Coast) donated two bicycles to the Queensland Police Service for use in the Surfers Paradise Police Bicycle Squad. Directors Colin Wheeler and Alan Thompson presented the Giant Filter mountain bikes during a ceremony at the Document Solutions dealership on Thursday 10 June 2010.
Document Solution's very own keen cycling team of 7 donated 2 new bicycles as a gesture of full support to the police to encourage proactive policing by bicycle patrols as it plays an important part in crime reduction in our community.
Senior Sergeant Bruce Dimond explains how essential this donation is, "At present, the bicycle squad is part-time and is drawn from the operational uniform strength. These officers perform tasked patrols of parks, beach foreshore, bikeways, and tracks in Surfers Paradise, and are available for deployment throughout the Gold Coast as required.
With the provision of the 2 new bicycles, these patrols will be expanded to include nighttime patrols in the Surfers Paradise division, supported by van crews to assist with arrests if required.
For example, the bicycle patrols are tasked to patrol areas where robbery and assaults have been occurring, such as sexual attacks on females on bush tracks. The patrols provide high police visibility, and allow police to locate and intercept suspect persons in isolated areas that are not accessible by vehicles."
The Surfers Paradise Police would like to sincerely thank Document Solutions for their continued sponsorship with the Police and for improving the quality of safety on the Gold Coast.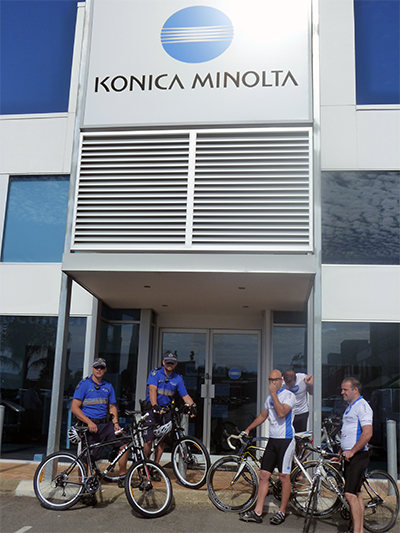 WOOHOO WE MADE THE CHANNEL 9 GOLD COAST NEWS!!!