In today's fast-paced business world, efficiency reigns supreme. Every operation, no matter how small, plays a critical role in determining a company's success.

So, this principle needs to extend to your company's printing processes!

While it's easy to overlook the significance of efficient printing, it can have a massive impact on your resources, productivity, and ultimately, your bottom line. This is where print management software steps in, offering a powerful solution to streamline your printing processes, reduce costs, enhance security, and minimise your environmental footprint.
We understand the pivotal role that effective print management plays in modern businesses. That's why we proudly offer PaperCut as our trusted print management software solution.

Today, we will explore the world of print management software with a special focus on PaperCut. You'll discover how this comprehensive tool can revolutionise the way you handle your printing needs, as well as why partnering with a managed print service provider like us can be a game-changer for your organisation.





The Need for Print Management Software
Before diving into the specifics of PaperCut, let's first address why print management software is an essential investment for businesses today.



Challenges of Traditional Printing Processes
In an era marked by digital transformation and technological advancements, relying on traditional printing methods can present several challenges. These challenges include:
Wasted Resources: Inefficient printing practices often lead to a significant waste of paper, ink, and energy resources. Every misprinted page and abandoned print job contributes to unnecessary costs and environmental harm.
High Costs: The expenses associated with printing can quickly spiral out of control, eating into your company's budget. These costs encompass not only paper and ink but also the maintenance and repair of printers and copiers.
Security Risks: In today's data-driven world, document security is paramount. Unmanaged printing processes can inadvertently expose sensitive documents to security breaches, potentially leading to severe consequences for your organisation.
The Environmental and Cost Implications
Beyond the immediate challenges, inefficient printing carries substantial environmental and cost implications. Consider the following:
Environmental Impact: The environmental footprint of unchecked printing practices is a growing concern. Excessive paper usage contributes to deforestation, while energy-intensive printing processes release greenhouse gases into the atmosphere.
Cost Consequences: Inefficiencies in printing directly impact your company's bottom line. High printing costs cut into your profitability and divert funds away from more critical business initiatives.
The Role of Print Management Software
Print management software emerges as a viable solution to address these challenges head-on. It offers a comprehensive approach to managing your company's printing needs efficiently, sustainably, and securely.
In the next section, we'll dive deeper into PaperCut, a leading print management software solution that has garnered a reputation for its effectiveness and versatility.



Overview of PaperCut
PaperCut has earned its reputation as a leading print management software solution through years of innovation and excellence. Here's a brief overview: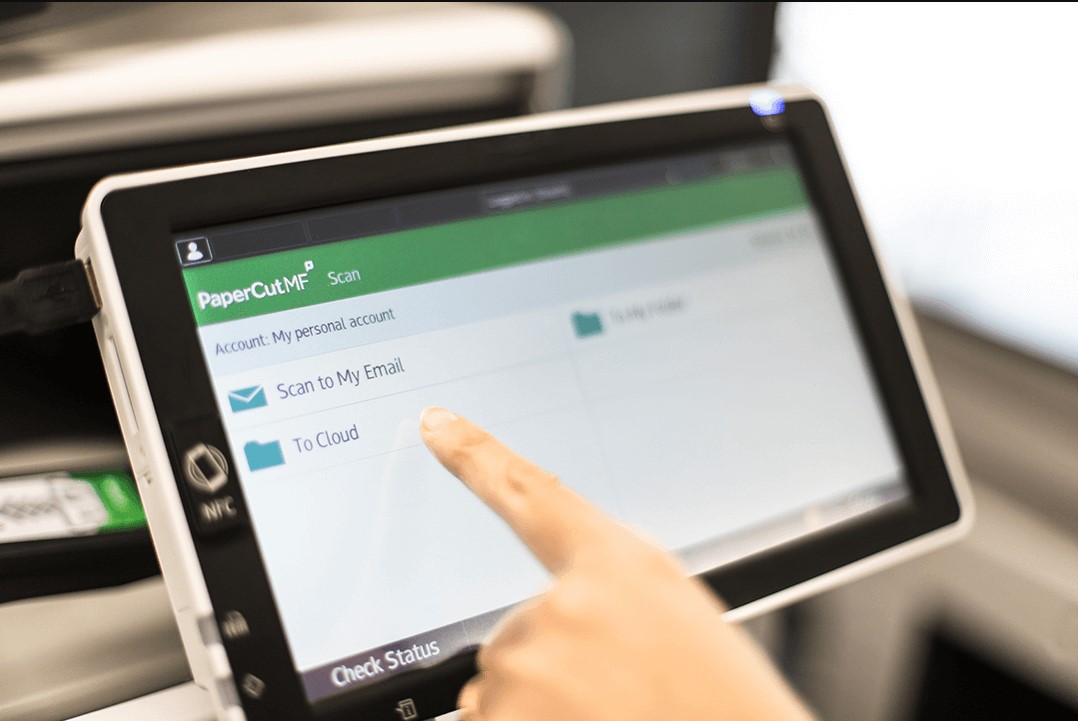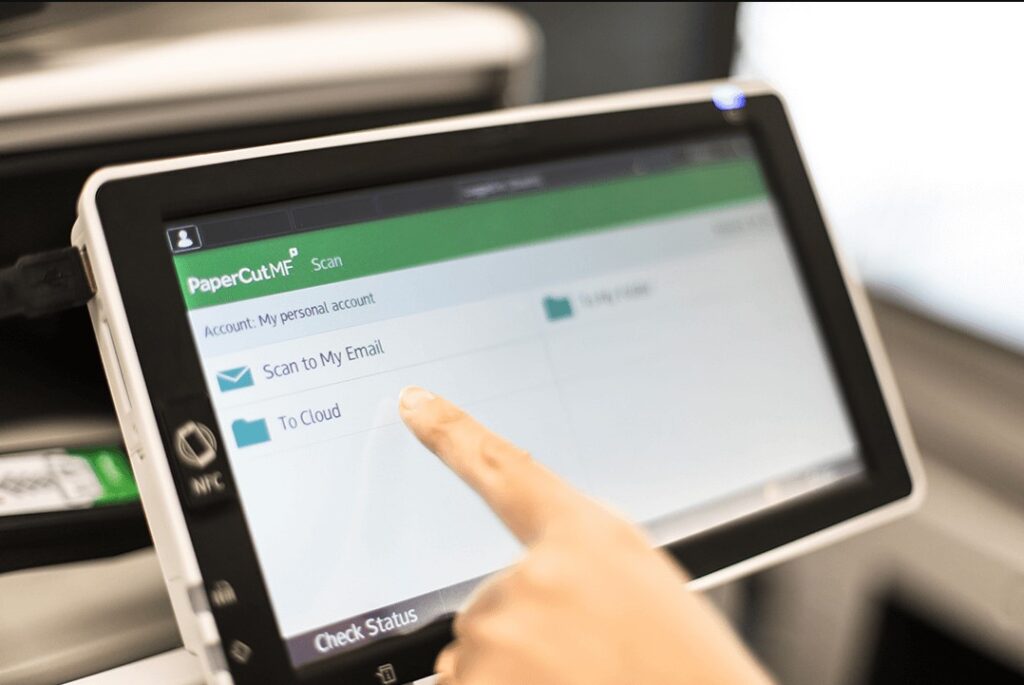 History and Reputation: PaperCut boasts a rich history, having evolved alongside the ever-changing landscape of printing technology. It has earned a stellar reputation for reliability and effectiveness.
Key Features: What sets PaperCut apart are its robust features and functionalities designed to meet the diverse needs of businesses. From small enterprises to large corporations, PaperCut offers a suite of tools that cater to various printing requirements.
User-Friendly Interface: One of the standout features of PaperCut is its user-friendly interface. This accessibility ensures that users of all technical backgrounds can navigate and utilise the software effectively.
Key Features and Functionalities
PaperCut offers a wide array of features and functionalities that empower businesses to take control of their printing environments.



User Authentication:
PaperCut incorporates user authentication mechanisms that enhance security and accountability within your organisation. Users must authenticate themselves before accessing printing resources, ensuring that print jobs are attributed to the right individuals.



Cost Tracking and Reporting:
Effective cost management is at the core of PaperCut's functionality. The software provides detailed tracking of printing costs, allowing you to monitor expenses, allocate costs to specific departments or projects, and generate comprehensive reports for informed decision-making.



Print Rules and Policies:
One size doesn't fit all when it comes to printing needs. PaperCut allows you to establish custom print rules and policies, ensuring that printing aligns with your organisation's goals and guidelines. Whether it's enforcing duplex printing, colour restrictions, or prioritising certain jobs, PaperCut offers unparalleled flexibility.



How PaperCut Benefits Businesses
Now, let's delve into how PaperCut can benefit your business by optimising your printing environment.
Optimised Printing: PaperCut excels in optimising printing workflows, ensuring that your organisation's resources are used efficiently. It helps eliminate waste by:
Queue Management: Prioritise print jobs, ensuring critical documents are printed promptly.
Reduced Duplication: Prevent duplicate print jobs from consuming resources.
Print Release: Implement print release mechanisms, allowing users to retrieve print jobs securely.
Cost Reduction: One of the most compelling reasons to embrace PaperCut is its ability to significantly reduce the cost of printing. Here's how it works:
Print Quotas: Set print quotas for users or departments, reducing excessive printing.
Follow-Me Printing: Implement a "Follow-Me" printing approach, where users release their print jobs when and where they need them.
Reporting and Analysis: Leverage PaperCut's reporting capabilities to gain insights into printing costs and identify areas for improvement.
Environmental Impact: PaperCut's positive environmental impact is another noteworthy benefit. By reducing paper waste and promoting sustainable printing practices, it aligns with your company's commitment to eco-friendliness. Consider these advantages:
Reduced Paper Waste: PaperCut's print policies discourage unnecessary printing, leading to reduced paper consumption.
Duplex Printing: Encourage double-sided printing by default to save paper.
Digital Workflows: PaperCut facilitates the transition to digital workflows, reducing the need for physical documents.

As we've seen, PaperCut offers a comprehensive suite of features designed to optimise printing processes and deliver tangible benefits in terms of cost reduction, efficiency improvement, and environmental responsibility.




Benefits of Print Management Software
Cost Savings
The allure of cost savings is a compelling reason for businesses to adopt print management software. In the corporate landscape, every penny counts, and print management software can lead to significant savings.
Print management software helps companies reduce printing costs through various means:
Eliminating Waste: By tracking and controlling print jobs, unnecessary and wasteful printing can be curbed.
Smart Allocation: Allocate costs more efficiently by tracking usage down to the user or department level.
Ink and Toner Savings: Implement settings that encourage economical use of ink and toner.
To illustrate the impact of print management software, let's consider a few real-world examples:



Example 1: Eliminating Unclaimed Print Jobs
In many offices, print jobs are sent to the printer but left unclaimed, resulting in wasted paper and resources. With print management software like PaperCut, unclaimed print jobs can be automatically deleted after a set period, saving paper and reducing costs.



Example 2: Defaulting to Duplex Printing
Encouraging double-sided (duplex) printing by default can significantly reduce paper usage. Print management software can enforce this setting, ensuring that employees automatically print on both sides of the paper unless they specify otherwise.



Example 3: User Quotas
Implementing user quotas ensures that employees are mindful of their printing habits. When users know they have a limited allocation of pages, they are more likely to print only what's necessary, reducing waste and costs.



Improved Efficiency
Efficiency is the lifeblood of modern businesses, and print management software plays a vital role in streamlining printing processes.
Print management software simplifies and streamlines printing workflows in several ways: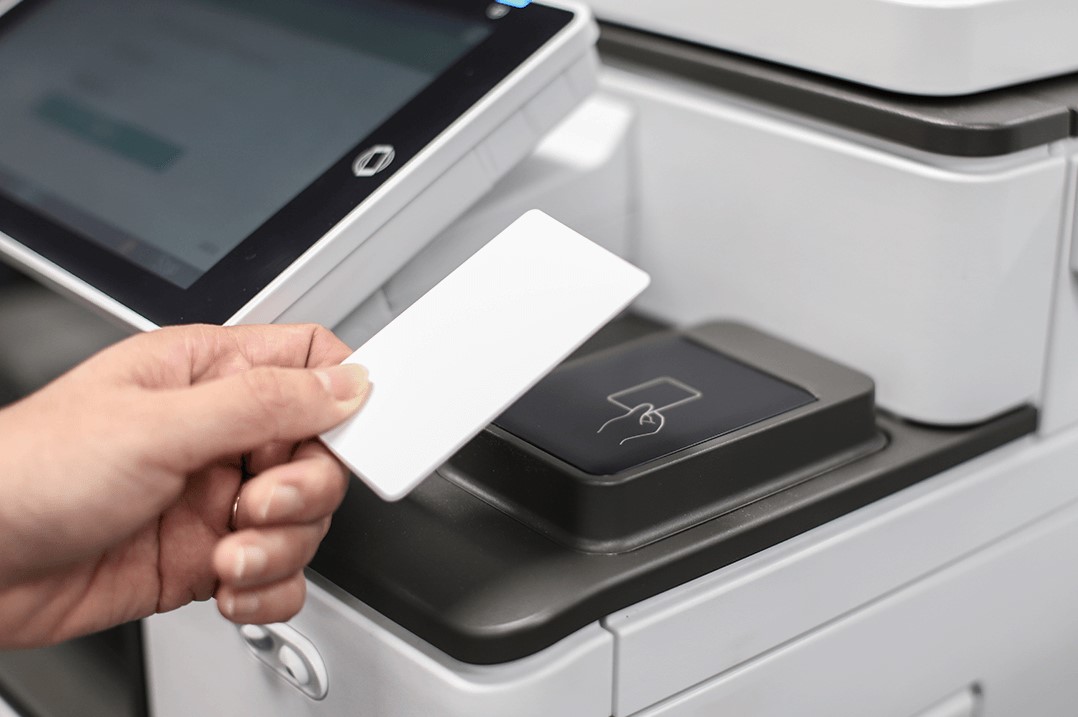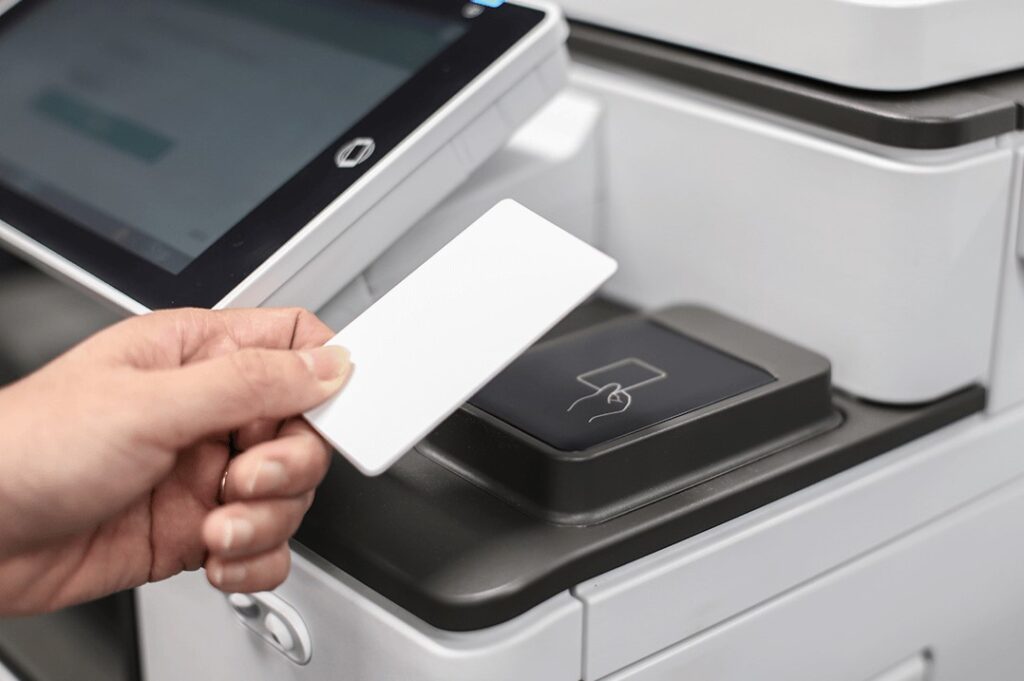 Print Queues: Prioritise print jobs to ensure critical documents are printed first.
Print Release: Implement print release mechanisms, allowing users to release print jobs at the most convenient time.
Reduced Downtime: Minimise printer downtime with proactive maintenance alerts.
Let's consider real-world scenarios to illustrate how print management software can boost efficiency:



Scenario 1: Queue Management for a Law Firm
In a busy law firm, urgent legal documents often need to be printed promptly. Print management software enables queue management, ensuring that critical documents are printed before less time-sensitive jobs. This ensures that important legal documents are always given top priority, helping lawyers serve their clients effectively.



Scenario 2: Find-Me Printing in a Corporate Office
In a corporate office with multiple printers, employees often face the challenge of locating their printouts. With find-me printing, employees can send print jobs to a centralised queue and release them at any printer when they're ready. This eliminates the need to search for specific printers and reduces wasted time.



Enhanced Security
In an age of increasing cyber threats and data breaches, document security is paramount.
Print security encompasses protecting your organisation's sensitive information and ensuring that confidential documents are not accessible to unauthorised individuals. Here's why it matters:
Confidential Information: Businesses handle a wealth of confidential information, from financial reports to customer data. Printed documents can be a vulnerable point of data exposure if not properly secured.
Compliance Requirements: Many industries are subject to regulatory requirements that mandate the secure handling of sensitive data. Failure to meet these requirements can result in legal repercussions and reputational damage.
Print management software, such as PaperCut, provides a robust set of security features to safeguard sensitive documents:



User Authentication:
User authentication ensures that only authorised individuals can access and print sensitive documents. With user-specific PINs or card-based authentication, PaperCut enhances document security by requiring users to authenticate themselves before releasing print jobs.



Secure Print Release:
PaperCut's secure print release feature allows users to release their print jobs at the printer of their choice after authentication. This prevents confidential documents from sitting unattended on the output tray and reduces the risk of unauthorised access.



Audit Trails:
To maintain accountability and traceability, PaperCut creates comprehensive audit trails of all print activities. This feature enables administrators to monitor who printed what, when, and where, making it easier to detect and address any potential security breaches.



Document Encryption:
PaperCut offers document encryption options, ensuring that sensitive information remains encrypted during transmission and while stored on the print server. This extra layer of security safeguards against data interception.



Environmental Impact
Beyond cost savings and improved efficiency, print management software has a significant positive impact on the environment. Here's how it contributes to sustainability:
Reduced Paper Waste: Print management software discourages unnecessary printing, leading to a reduction in paper waste. By enforcing double-sided printing and eliminating abandoned print jobs, businesses can minimise their paper consumption.
Energy Efficiency: By optimising printing processes and reducing unnecessary print jobs, print management software helps lower energy consumption, resulting in a smaller carbon footprint.
Transition to Digital Workflows: Many businesses are making the transition from paper-based workflows to digital processes, reducing their reliance on printed documents altogether.



Reduced Paper Waste:
Consider the environmental impact of a typical office environment with unchecked printing practices. Reams of paper are used for documents that often end up in the recycling bin or worse, the trash. With print management software, organisations can significantly reduce paper waste, promoting a more sustainable approach to printing.



Duplex Printing for Sustainability:
Print management software like PaperCut can enforce duplex printing as the default setting. This simple change encourages employees to print on both sides of the paper, effectively halving paper usage. Over time, this shift in behaviour adds up to substantial paper savings and reduced environmental impact.



Digital Workflows for a Greener Future:
The adoption of digital workflows, facilitated by print management software, is a key component of sustainability. By reducing the need for physical documents, businesses can decrease their reliance on paper and contribute to a greener future.



Why Partner with a Managed Print Service Provider
While the benefits of print management software, such as PaperCut, are clear, it's essential to recognise the role of a managed print service provider in implementing and managing this technology effectively.
A managed print service provider plays a pivotal role in ensuring the successful implementation and ongoing management of print management software:
Expertise: Managed print service providers possess the knowledge and expertise to assess your organisation's printing needs, customise the software to align with your specific requirements, and ensure its seamless integration with your existing infrastructure.
Customisation: Every business has unique printing needs. A managed print service provider can tailor the print management software to your organisation's specific workflows and goals, optimising its functionality to suit your operations.
Ongoing Optimisation: A managed print service provider doesn't just set up the software and leave; they continuously monitor and optimise your printing environment. This proactive approach ensures that your organisation benefits from the latest features and cost-saving strategies.
Troubleshooting and Support: Should issues arise, whether technical glitches or user concerns, a managed print service provider offers responsive support and troubleshooting services. This ensures minimal disruptions to your printing operations.



Conclusion
In conclusion, print management software, exemplified by PaperCut, is a powerful tool that can revolutionise the way your organisation handles printing processes. By reducing costs, improving efficiency, enhancing security, and minimising environmental impact, it aligns with your business goals for a more productive, cost-effective, and sustainable future.
Embrace the value of print management software and consider the advantages of partnering with Document Solutions, a trusted managed print service provider. We're here to help you harness the full potential of print management software, tailor it to your unique needs, and support your organisation in achieving a more streamlined, efficient, and secure printing environment.
Don't hesitate to reach out to us for a consultation or more information on how PaperCut and Document Solutions can transform your printing processes and drive your business forward. Your journey to efficient and sustainable printing begins here.