Despite the challenges 2021 brought to the print and technology industry, Brother has continued to impress both consumers and experts as the innovative brand is once again crowned by PCMag. In an excellent testament to their reliability and quality, Brother has won not one, not two, but three major awards in the annual event.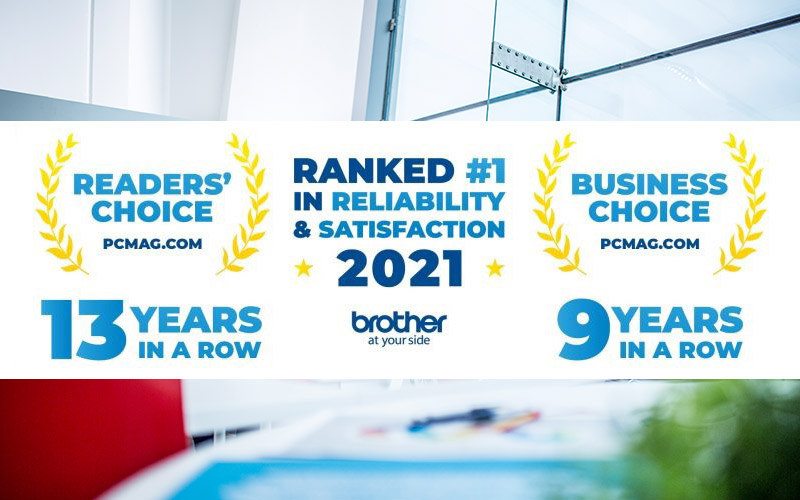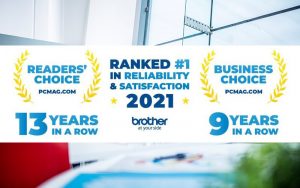 For the thirteenth year in a row, Brother has been awarded the Reader's Choice Award in the Printer Category by PCMag's eager audience, speaking volumes for the impact brother has had on the wider community and consumers.
For the ninth year in a row, Brother has been awarded the Business Choice Award in the Printer Category with PCMag reporting Brother scored 8.7/10 for overall satisfaction which is the highest the score has ever been. "It takes a steady brand to keep the rudder pointed at customer satisfaction for this long," states PCMag, "Yet in our nine years of presenting the Business Choice Award for printers, Brother has done exactly that, earning scores other vendors only wish they could achieve." That's right – Brother has been winning the Business Choice for the duration of it being presented and steadily improving the top score along the way.
Another notable win, Brother has been ranked number 1 in reliability and satisfaction for 2021. Brother has claimed, "To not only win PCMag's Business Choice Award (Printers) 2021, but to be consistently recognised as number one over the nine years of the award and to take out the 2021 Award with a top score… it is simply fantastic! We are beyond thrilled with this acknowledgment from our highly valued business customers and are delighted to come out on top."
To mention just some of the subcategories, Brother took the top score on reliability, value, ease of use, text print quality, paper handling, and more as the list goes on.
We are proud to partner with Brother Australia and provide our clients with a winning combination of Brother's sought-after printers and copiers and our team's unrivalled service. We already love Brother but with a track record that cannot be beaten, it's an obvious choice for us and our clients alike to continue to invest in their quality, reliability, and innovation.